So word is out around town that the Space Jam sequel is actually happening, and it is being directed by Ryan Coogler who is responsible for Black Panther. He is going to attempt to do the impossible and recreate the Sistine Chapel and if anyone can do it, it's probably him. This film is going to have to pull in today's youth while passing the eye test of the crusty 90's kids who are going to be waiting to pounce on any scintilla of a plot hole. Luckily for Ryan and everyone else involved in the process they have Coach Red here to help guide them through this rigorous process.
The one thing that is for certain is the free agent signing that the Tune Squad will be making and that is LeBron James, the star of this film. This is a good choice for obvious reasons in regards to where he stands in the sport of basketball but also because James might very well be the best actor out of all NBA players who have ever been in a movie. He stole the show in Trainwreck and has even began to diversify into voice roles with the new movie Small Foot. While this choice was a no brainer the real job starts with the selection of the rest of the roles that need to be filled for this long awaited sequel. That being said my hope is that as many NBA players as possible are in this movie to maximize this movie's potential but we need to make sure just like in game, we put the right players in the right spot. For the sake of this piece I am going to make a few assumptions, I am going to assume that some form of a Monstars squad is going to make a return. Five players are going to get their talent stolen and the NBA is flipped upside down as the best player and a handful of other superstars are missing either literally (in LeBron's case) or figuratively. Coogler will most definitely put a different spin on the movie but it's going to be hard to divert from this plot point of the now series.
The first matter of business is picking the five players who will have their talent stolen and be the players on the Monstars squad. This is an area where many people go down a selection path that is ill advised by thinking the best players or the most popular players should make up the Monstars. I'm sorry but no, so let's go ahead and cross out the "wrong obvious choices" I know many people are putting on their Monstar big board. First, the Golden State Warriors back court, the Bay Area and everyone under the age of 14 doesn't want to hear that but it's the truth. Next, Giannis Antetokounmpo, I will do my best to keep the Greek Freak rant to minimum but no promises. We can go ahead and add James Harden to the list as well, as great as he is his talents are needed elsewhere in this project. Finally anyone on the Lakers, it's just not going to work with him playing against teammates and if you truly thought anyone on the Lakers roster was worthy of a Monstar slot we have bigger issues. Those are some of the obvious names that are always going to be thrown into the mix that shouldn't. The reason being that the Monstars are bullies, they are a team that is going to use physicality and intimidation to help them win the game. The original Monstars were about as physical as the early 90's Pistons and did nothing but monkey dunk the basketball like they were Phi Slamma Jamma Alumni. And if you're not familiar with a monkey dunk please refer to exhibits A, B and C shown below…
These are going to be guys in the league who know how to instigate and who have a solid base of anti-fans. Steph, Klay and Durant are great but their style of play isn't one that screams physicality or intimidation on the court, also the general consensus is (at least in Steph and Klay's case) that everyone loves these guys. People are going to have a hard time rooting against the Splash Brothers and their Splash Cousin once removed. The same can be said for James Harden, while he isn't as universally loved as the boys in Golden State his play style is one that doesn't necessarily fit what is needed to make the cut for a Monstar. And that leaves us with none other than Giannis, does he have talent? Yes. Is he a freak of nature with his athletic ability and size? Yes. My issues with Giannis stem from the fact that I am not ready to get or die on the Giannis Is Greatness Hill. I need to see something other than great defense and the ability to dunk from outside the lane. If he doesn't have a proven jumper by the All-Star break this year I will be entirely on the train of Giannis being an elite defender and nothing more. He does check most of the boxes aside from him being a player people generally like but I just can't bring myself to elevate him to Monstar status with there being such a huge part of his game (shooting the freaking ball) that is still sub-pedestrian.
Now while those are the "wrong obvious" answers, there are some that I didn't mention that you might be wondering about. There was a select few that almost made the cut and for whatever reason went from on the bubble to on the outside. The first one is Anthony Davis, I don't have to go into just how amazing he is and the fact that he is a top five player in the NBA. Davis missed the cut purely because at his position there was someone else who just fit the Monstar persona way too well to not be on the list. Next was Kawhi Leonard, he checks all the boxes as well but up until recently we had only heard him talk twice and smile once. We can now add a laugh to the four minutes of documented audio we have on him but there should be a certain level of boisterousness which Kawhi (and this is definitely no knock on him) doesn't have. Lastly, and I was really torn on this one, is the Morris twins. There is nothing more Monstar than the Morris brothers, they talk trash, they get techs, they play physical, everything you want in a Monstar recruit. The only catch is neither of them really meet the unwritten accolade requirement to even be in the Monstar discussion so I had no choice but to nix them from the big board. These guys were all close but didn't fully have what Ryan and the gang need to be looking for when they get their squad together. There are only five real choices for the Monstars and that's Russell Westbrook, Chris Paul, Jimmy Butler, Draymond Green and Demarcus Cousins. And if you're wondering what makes these guys so qualified don't worry I have the whole scouting report ready.
Westbrook
Considered as competitive as Jordan, ridiculously athletic and short fused with just about all media, there is a great deal of creative liberty you can take with a tiny alien gaining his on the court abilities. Also when his talent gets stolen who wouldn't want to see his fashion sense go as well? Russ wearing something from the half price rack at Ross to a game would be entertaining.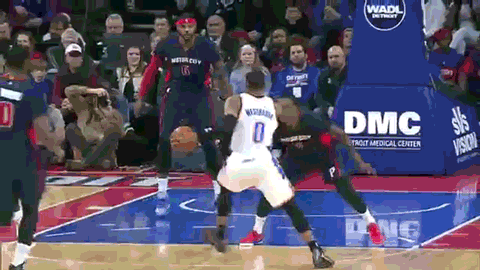 Paul
One of the few people in the league with an actual Napoleon Complex, Paul gave enough fits to the Warriors this past playoffs and was extremely physical with Steph to a point that he earned a spot on the Monstar squad through tenacity alone. Paul is also quietly one of the more polarizing players in the NBA, there are a good number of Chris Paul haters who would love a new avenue to cheer against him. On an off the court note, given that Paul is about as tall as Drew Brees it would be hilarious to see him living life for a few days not as an NBA star but instead as just another dude who is a questionable six feet tall.
Butler
Over the past few seasons Jimmy Butler has proven to be a great two-way wing and a top 15 player in the league (yes I said it) but that's not the main reason I want him to be a Monstar. This might be the only choice that has more to do with off the court than on it. I want Jimmy to be a Monstar purely so we can have a scene where he is playing against the Timberwolves when his talent gets stolen. I feel like that would be basketball cinema gold and I don't want that opportunity missed. So in regards to Butler making the list…deal with it.
Green & Cousins
If I have to explain why these to have to be Monstars then we have bigger issues. Both of them since they were in high school were the epitome of the Monstar style of basketball. Quite frankly I'm not sure that the two of them don't model their entire game from scenes from the original Space Jam. These two are ones that without question or debate have to be Monstars otherwise the movie doesn't work. And one of them needs to get similar scenes to the ones Charles had where they are out in the world trying to find themselves and get man handled by some teenage kid on the streets in a pickup game.
While we have the players set one thing I would add to the mix is a coach. The Tune Squad has their player coach in LeBron as they did MJ in the past but the Monstars were without a coach. All they had to work with was a green Danny DeVito who was more of a greasy general manager than anything else. What the Monstars need is a coach to have his talent stolen as well so the aliens can do more than play prison street ball. Not that I was ever against the Michael Irvin style of basketball they played we could all just stand to see it expanded upon. I think it comes down to Steve Kerr or Brad Stevens for this one. Initially I had Dwane Casey in the running as well given that 80% of his failures in the NBA can be accredited to LeBron. There would be that aspect of an alien inheriting his talent and knowledge and taking it upon himself to exact revenge in Casey's name but that was a bit much. Also nobody is more of a Brad Stevens fan than myself but I am leaning towards Kerr being the guy who loses his talent and coaches the Monstars. This is because we still don't know with complete certainty that Brad Stevens isn't a T-1000 Terminator so using him for something like this could make things more complicated. Kerr I think could play up the coach losing his knowledge  a little better and would be more into the role, he has multiple rings as a player and coach so he can laugh at himself with a bit more ease than the ringless Stevens and Casey.
The next role that needs to be filled is actually a set of two which I refer to as The Golf Boys, Larry Bird and Bill Murray. These two were an amazing comic relief and side story in the movie and their roles have to be reprised in some shape or fashion and I have come up with the ultimate solution. My thoughts went immediately to LeBron's charity work that he has done over the years and more specifically the original LeBron James Player Scholarship. Most of you are probably wondering what this scholarship is and why you haven't heard of it before. Well that's because this wasn't one that was publicized almost at all; back during LeBron's time at Miami he started a program where he took troubled and underprivileged NBA "culture guys" and provided them with the shelter of a title contender with a chance at being gifted an NBA championship ring. The two repeat winners of this particular scholarship were James Jones and Mike Miller, hopefully you didn't think those two were on Heat and Cav teams for legitimate basketball reasons. When they appeared on LeBron sanctioned rosters I can assure you it was for future tax write offs. James Jones could definitely be the one to fill the Larry Bird role. Enjoying life after basketball and basking in the care free lifestyle that comes with being the general manager to a circus of a franchise like the Phoenix Suns. Mike Miller could be the updated version of Bill Murray, a friend of LeBron who desperately thinks he should still be playing in the NBA who ultimately gets his chance again when he finds his way into the Looney Toon arena during the middle of the game. Plus when Miller shows up it would be great for one of the aliens to mistake him for Mike Dunleavy or Kyle Korver like they did with Murray and Aykroyd. Having seen several interviews with these two I feel they would be up to the task of having some fun with these roles and come on it's the least they could do to show their thanks to the guy who personally extended their careers and got them rings.
It is not lost on me that some of these asks are simply rehashing what was done in the original. There is a certain outline that Coogler is going to have to follow to get everyone onboard. This is no different than when directors take on Star Wars spin offs, you are dealing with a fan base that has a mix of excitement and skepticism and a set of standards they expect to be met all while being surprised with something new. Nearly impossible I know but he knew what the deal was when he took it. I think even following this skeleton of an outline leaves enormous amounts of room to add  his own creative style to the movie. That's where all the other NBA players and coaches come in. I want to see as many players and NBA personalities in this movie as  humanly possible. Just because they aren't a Monstar doesn't mean they can't and shouldn't be in the movie. There is no way they can make this movie and not have Steph, Klay, Durant, Kyrie, Blake Griffin, Joel Embiid even Porzingis and Harden just to name a few. Karl-Anthony Towns and Wiggins have to be present when and if Jimmy Butler loses his talent; The hosts of ESPN's The Jump (Rachel Nichols, Stephen Jackson, Amin Elhassan and Paul Pierce) have to make an appearance; And of course at some point Michael Jordan has to have a cameo and just like Green and Cousins this isn't debatable.
After the ungodly amount of time spent contemplating how this sequel should be presented to the world it is safe to say I have laid out a rough outline of a formula for success. And while I have all the faith in the world that LeBron and Coogler will put  together a great product it wouldn't hurt to take some of my recommendations under advisement.